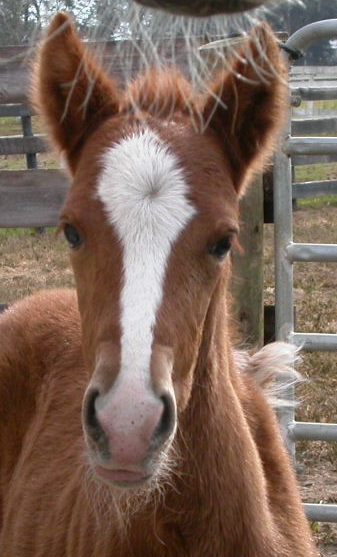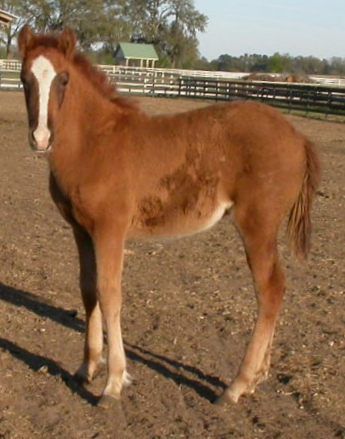 SOFIA de COLORES PFHA#45808 Chestnut Filly 1/1/05
Ambar del Ocho (Retorno/Resorte III) x La Sofia de Atrevido (Atrevido/Cosmos)
A very special filly! Sofia has the same combination of bloodlines as Pokahontas.
PRICE: **HERD REDUCTION SALE PRICE - $12,000.00
Bloodlines:
Resorte IV
Re

torno del Ocho

Mazurca
Ambar del Ocho
Magico
Magica del Ocho
Magica
Sofia de Colores
Amadeus de Resorte IV
Atrevido del Ocho
Atrevida de La Miel
La Sofia de Atrevido
Cosmos
La Dinistia de Victoria
La Mantequilla
WINNING COLORS PASO FINOS
Barbara & Kelley Cox
800 NE 105 Lane
Anthony, FL 32617
winningcolors@worldnet.att.net
http://www.winningcolorspasos.com
http://www.pasos4sale.com
barn & fax (352) 690-7474
house & fax (352) 690-7454
Click here for Consignment Horse Site
Click here for Winning Colors Paso Finos Site
Click here for New Arrival Site
Click here for Stallions Standing at Stud Site
Click here for Maria Bonita Paso Finos Site
Click here for Home Page

NOTICE: All information presented on these pages is to our best knowledge and information provided.
Prices, information, and availability subject to change without notice.
We urge potential buyers to see horses in person before purchase.